"OK Google": How to Use Google Voice Search to Drive Traffic to Your Site
Voice search now comprises at least 20% of online searches in the U.S., and over $2 Billion in purchases were made through voice in 2018 alone.

Voice search is becoming more prevalent because more people have access to virtual assistants. Voice assistant-related sales are surging year over year, with 78% growth between 2017 and 2018.
According to a recent NPR Study,
over 20% of people 18+ now own a smart speaker in the U.S. That means in the U.S. alone over 53 million people have access to voice-based assistants like Siri, Alexa, Cortana, and Google Home.
Search Giants, like Google, are also investing heavily in voice search capabilities – leaning into natural language processing and deep learning algorithms (like BERT). As voice search responses improve, users are increasingly relying on the tool for hands-free searching while they drive, cook, and more.
This presents massive
SEO
potential for brands that want to access this growing user market.  So how do you optimize effectively for voice search? You start by optimizing for Google Voice Search.
What is Google Voice Search?
Google Voice Search is a free software product that allows users to access Google search by speaking their search query to a mobile device, smart speaker, or computer. The response is read back to a user, with additional information able to be displayed on devices with screens.
Google Assistant is the tech giant's answer to competitors Amazon's Alexa and Siri by Apple. It's available on android devices, Google Home speakers, and through the Google Assistant app on non-android devices.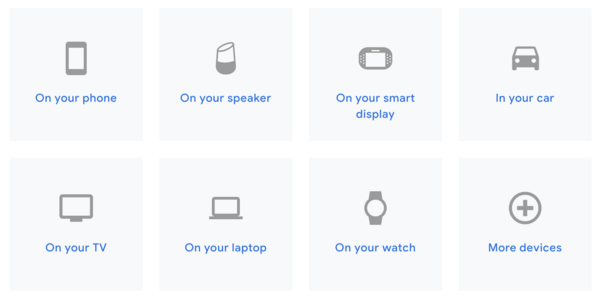 To activate Google Voice Search, the user says "OK Google" then asks a question such as
"What is the tallest mountain in Asia?
" or
"How much are paper towels at Walmart?"
The Voice Assistant then searches the internet to find the answer to the question.
Sometimes, the search results from Google Voice Assistant come in the form of a straight answer read aloud by the Assistant. Other times, the Assistant shares a website link, Google My Business Listing, or video.
How Voice Search is Different from "Regular" Organic Search
Voice search SEO builds on the groundwork laid by rich snippets, featured snippets, and tend to pull directly from these snippets themselves.
Voice search results produce fewer results than desktop or mobile searches. Some queries elicit a single, spoken, response (often a featured snippet). Other queries bring up a map pack, or brief list of options — such as products or recipes.
The example below shows voice search results on a mobile device for the query "what restaurants are near me?" You'll notice that I'm only shown three map pack results. There are no organic results displayed below if I keep scrolling, just white space.
In order to be served as a voice search result, Google must be almost certain that the information is both correct, concise, and will provide high value to the user.
Most SEO strategies rely on increasing Google's trust in a site's relevancy and authority for search phrases, so how does this differ for voice search?
Voice search typically involves complete questions/demands.
While organic search queries usually consist of statements like "seattle thai food restaurants" or "weather in columbus", voice search queries are typically complete questions like "What is the best Thai food restaurant in Seattle?" or "What's the weather like in Columbus?". That's because users are using their own voice to ask a question, much like they would when interacting with a real person.
Pay special attention to the "people also ask" section of the search results for any of your target keywords, for example these results for the query best cat toys.
You may be able to discover content topics you wouldn't otherwise have thought of, to help your target market find your site. In this case, writing a post about whether or not lasers are bad for cats.
For voice search optimization, the keywords you target will likely end up being long-tail keywords. These are search phrases that read more like complete questions or demands.
To increase your voice search ranking, content creators should focus on answering common questions related to their target keyword.  Keep in mind that in Google's eyes, the best answer is often a short answer (40 words or less).
Responses are read back to the user by a virtual assistant.
When users type keywords into a search engine on desktop or mobile, they are returned a mix of text, image, location, and video results.
But voice search seo is very different, it's entirely text-based. Voice queries eliminate the screen as answers are instead read out by a smart speaker or smart device. Voice search devices make the search process hands-free for users, but it also means that information is conveyed at the pace the digital assistant speaks.
As Google puts it:
When a displayed answer is too long, users can quickly scan it visually and locate the relevant information. For voice answers, that is not possible. It is much more important to ensure that we provide a helpful amount of information, hopefully not too much or too little.
Optimize for voice search by getting to the point as quickly and concisely as possible, ideally within a sentence or two. Also try to keep your language simple, avoid complex sentences. Your target reading level is 9th grade or below. You can check the readability of live content by using this tool.
Why Should I Optimize My Site for Google Voice Search?
Google Has Been Refining Voice Search for Over a Decade
Google has been working on voice search for over a decade. Google's first patent for voice search dates back to 2006, followed quickly by Google Voice Local Search (known as GOOG-411).
GOOG-411 allowed users to call a number and search for local businesses, they'd receive 8 results back. GOOG-411 was never meant to be a long-term product, it was just a way for Google to build a phoneme database back in 2007 that would help it accurately translate speech to text.
Nearly a decade later, voice search accuracy has a completely different meaning. Rather than being concerned with translation accuracy, Google has focused on providing users with the most accurate (read: relevant) results.
In May 2017 Google says its own Voice Search achieved 95 percent word accuracy, meaning the Voice Assistant was on par with humans for being able to match a search query with the right result.
Google's most recent algorithm update, BERT, even improves how the search engine understands full-sentence search queries. BERT helps establish the context of terms within a long-tail search queries, a clear preparation for more natural language (aka voice) searches.
Voice Search is Growing
People are increasingly using voice search for more than just setting reminders and alarms for many reasons, according to Google:
They can more easily multitask, looking up information when they're cooking, working, or even driving.
They can find information more quickly than they can on other devices, as voice search presents only the most relevant answer.
They can instantly get answers and information, something that's become increasingly more important to searchers.
It makes their daily routines easier, as they don't have to stop, pick up their phone, open a browser, and type in a search query.
Even as a local business, voice search optimization is helpful to your customers who may be driving and looking for directions to your location, or who have questions about your hours of operation, for example.
Voice Search Users Are More Open to Promotions
Getting information and answers to all those random questions that pop into your head isn't the only reason people use voice search. Instead, Google says people want to hear most about deals and specials from their favorite brands when using their voice-activated speakers and search assistants.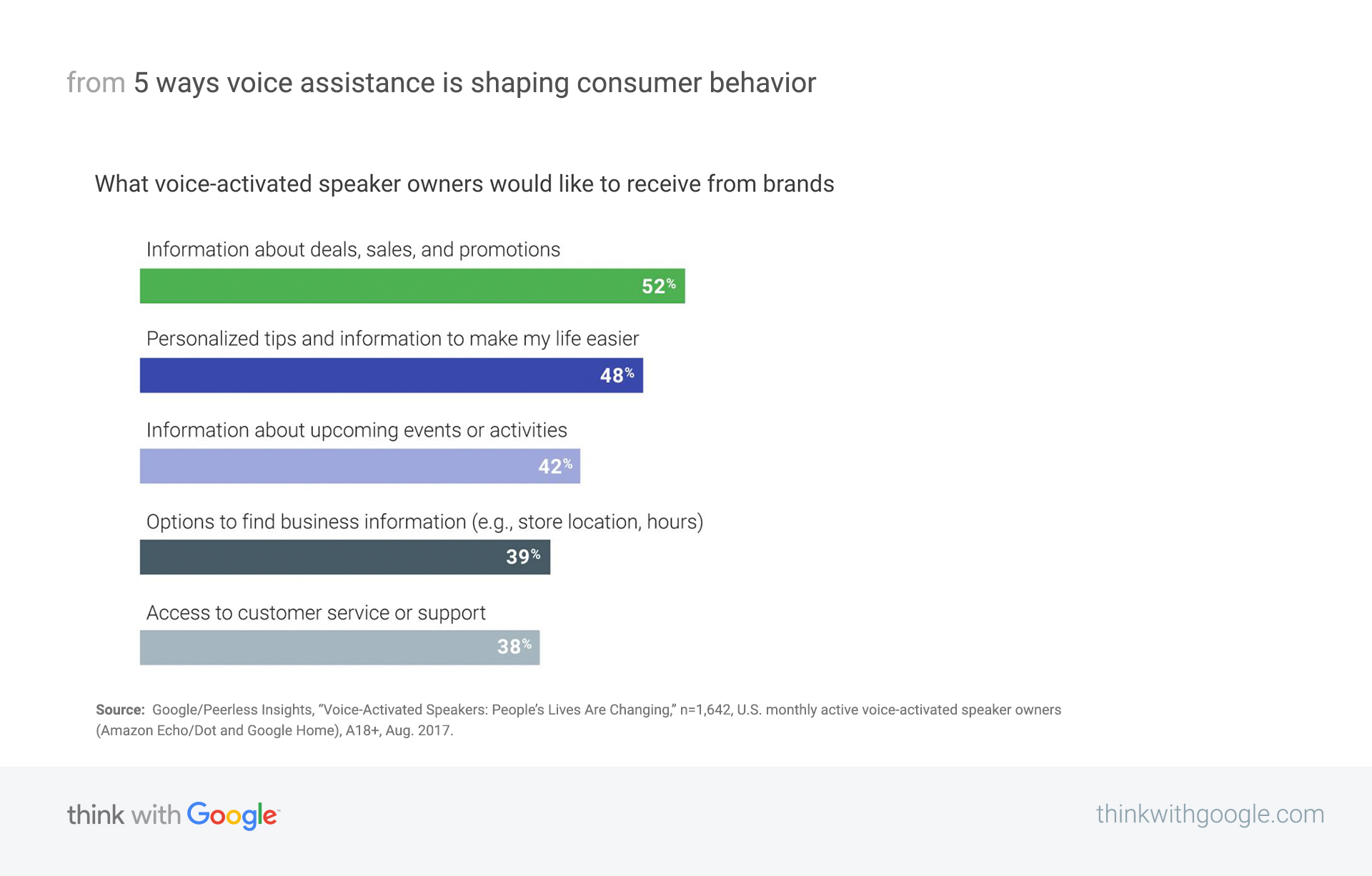 Voice Search is Being Used to Make Purchases
Even before the smart speaker surge of 2018, 29% of voice assistant owners had already used voice search for online shopping. And this year, Voicebot reported that over 40% of smart speaker users had searched for a product on their smart speaker.
Voice Search Rankings Are NOT 'Happy Accidents'
Voice search users are often served only a single result. There's no option to get discovered further down the first or second page of search results by a highly-motivated users. To capture any portion of the voice search market you have to be the absolute best result (and typically the fastest to load). Being the best takes deliberate work.
The good news? If you're optimized well enough for voice searchers, you are also well positioned to be picked up in featured snippets. If your website is optimized to be selected for voice search results, your answers are more likely to show up for searchers – 60% of voice search results came from pages with a featured snippet result.
Google Voice Search SEO Tips
Optimizing your website for Voice Search includes the same elements as traditional SEO, but concise language, page speed, and backlinks matter even more.
Here are the 5 things you need to keep in mind when optimizing your website for Google Voice Search:
The Keywords Will Be Different for Voice Search Users
Imagine you're driving late at night, and you need a caffeine pick-me-up. You want to find a nearby coffee shop that's open late.
SCENARIO 1 – Mobile Search
You pull over onto the side of the road and type "coffee shops open late houston tx" into your search bar, find a blog post about shops open late, or look at nearby map pack listings and check the hours.
SCENARIO 2 – Voice Search
You continue driving and instead speak to your virtual assistant, "OK Google, where can I get coffee right now?" as you're driving down the road.
In the first example, the search functions off of the term "open late." For this example, having the term "open late" on your site, or being included in a post about late night coffee shops in the area could help you get found. You'd also want to have your Google My Business (GMB) listing updated with your late hours in case the user was served the map pack.
In the second example, Google has to translate the request into an actionable search. In this case Google displays a map pack of local coffee shops, which have their hours displayed. A user who has set up conversation mode can then ask follow up questions, like which one is closest, and what are their hours. In this case optimization will be almost entirely about the GMB listing.
As you can see from the example above, the key to choosing the right optimization strategy for voice search comes down to understanding the user's journey and search intent.
Let's try another example, you're baking brownies with your niece and she asks you where chocolate comes from.
Scenario 1 – Desktop Search
You pull up your computer and search "country of origin chocolate".
Scenario 2 – Voice Search
You ask "Ok Google, where does chocolate come from?"
Keywords are different for voice search vs. desktop or mobile search. For voice search to target long-tail keywords that are phrased as questions, this will provide a closer 1:1 match to what searchers use as voice queries.
There are a couple of tools you can use to help you find the right query-based long-tail keywords to get your list started, including "people always ask" which we covered earlier in this article.
Another great tool is "Answer the Public" which offers one free keyword search per day – or you can search as many times as you want with the pro version. With this tool, you type in your seed keyword, such as "roofing company" and are presented with a constellation of long-tail keywords. Many of the results are questions, such as "how much is roofing company insurance," which is a handy list to have to get your voice search optimization SEO started.
Content
Since Google Voice Search pulls the answers to searcher queries directly from the available websites that best match the question, making sure the content on your website contains the queries you want to answer is important.
For best results, creating content that matches all parts of the buyer's journey will help you see the biggest possible gains.
At minimum, your website should have content to speak to these stages to capitalize on voice search:
Awareness: The buyer realizes they have a problem that needs a solution, such as a broken phone screen. Ex: "Can I fix a broken iPhone screen?"
Interest: The buyer has identified their problem and is beginning to look for solutions. Ex: "Can I fix my iPhone screen myself?"
Evaluation: The buyer is looking to compare and contrast two or more options for a solution. Ex: "Is it better to take a broken iPhone to the Apple store or a different repair place?"
Purchase: Questions specifically regarding the buying process. Ex: "How much does it cost to repair an iPhone?"
There are three main types of content your website needs to help you capture buyers at all stages:
Informational content: Guides, how-tos, etc.
Navigational content: Store hours, directions, services, press releases, contact information, etc.
Transactional content: In-depth product guides, comparisons, product stories, videos, etc.
Start small when creating your content. It's easy to get overwhelmed thinking you have to do it all right now, but even adding one or two new pieces of content to your website each month can make a big impact.
Structured Data
Because Google Voice Search only returns one result per query, instead of a whole list like with traditional search, structured data is important.
Structured data markup allows you to create metadata for your website to tell Google what your content is about without affecting the appearance of your content. In other words, it's a roadmap for your website to help Google understand it better and match your content with the proper searches.
Some of the things you can identify as part of structured data markup include:
Products
News articles
Recipes
Reviews
How-tos
Places
People
If you're trying to improve traffic to a page that sells fountain pens, for example, using the Product structured data markup tells Google that your page sells pens. When someone asks Google Voice Assistant, "Where can I buy a blue fountain pen?" Google understands that your website sells a product and is more likely to show your site as the query result.
Using structured data markup doesn't just help your voice search results; it also can improve your chances of being featured in the traditional search results.
Once you've implemented structured data markup on pages that you want to optimize for voice search, use Google's Structured Data Testing tool to check that everything's working properly.
Mobile-Friendliness
Many voice search queries happen on mobile devices. And with Google prioritizing mobile-friendly websites in the traditional search results, making sure that mobile users have the best possible experience on the mobile version of your website is more important than ever.
Not only does your website need to be well-designed for the mobile environment, but it needs to be optimized for mobile searches.
Check your site's page speed: A 2018 study by Backlinko found that voice search results load 52 percent faster than average pages. If your site's pages aren't fast enough for voice search, they won't be chosen as the displayed result.
Google Actions
Google Actions are user-developed applets that enhance the usability of Google Assistant.
They can be everything from using voice command to send money to another person to full conversations with the Assistant.
While users can build Actions from scratch, it's best to leverage items that already exist on your website so Actions simply make your content more engaging.
Instead of creating an Action just for the sake of it, try using the structured data markup you've already initiated on your site and let Google do the rest. If you've got a how-to blog post, for example, and you use the how-to structured data, Google automatically uses that Action to read out step-by-step instructions.
This way, you get the extra engagement of Google Actions without having to take extra steps.
Making Google Voice Search Work for You
Voice Search SEO does take some extra work and requires a heavy focus on getting into snippets, but the good news is that if your site ranks for Voice it's going to rank for snippets and organic as well. For more information on best practices for SEO including mobile SEO, local SEO, keyword research, and content optimization check out our other blog posts!