Are you trying to win new clients for your law firm? Prospective customers are already using search engines to find you, and having an effective SEO (search engine optimization) plan for your law firm is the best way to take advantage of this!
Need proof? Check out these stats…
96% of people use a search engine to seek legal advice.
38% of people use the internet to find an attorney.
62% of legal searches are non-branded (for example, Miami car accident attorney).
Additionally, your law firm website is a great spot to generate new leads for your firm. 74% of consumers who visit a law firm's website end up taking action, such as contacting the firm by phone.
Also, the lawyer SEO competition doesn't necessarily reflect the legal market you're in. Only 35% of law firm websites have been updated in the last 3 years, and 40% of law firms don't even have a law firm website.
In short, by applying an effective law firm SEO strategy, you'll leap ahead of most of your competitors.
To help you put together your own SEO campaign, I'll show you how to rank your law firm #1 in Google – step-by-step.
ARTICLE CONTENTS
TECHNICAL SEO
Step 1. Determine Website Structure
Step 2. Setup Your GMB Listing
Step 3. Improve Your Site Speed
Step 4. Mobile Optimization
Step 5. Implement SSL
KEYWORD RESEARCH
Step 6. Understand Search Intent
Step 7. Find the right keywords
PAGES & CONTENT
Step 8. Identify User Content Goals
Step 9. Format Your Pages Properly
Step 10. Optimize Your Home Page
Step 11. Create Practice Pages
Step 12. Rank Better with Blog Posts
Step 13. Fix Zombie Pages
DOMINATE LOCAL SEARCH
Step 14. Tailor Pages to Markets
Step 15. Legal Directory Citations
Step 16. Claim & Manage Reviews
LINKS
Step 17. Outbound Links
Step 18. Inbound Links
MEASURE RESULTS
Step 19. Tools to Use
Step 20. KPIs
TECHNICAL SEO FOR ATTORNEYS
Step 1. Determine Your Website Structure
Structure your own website so your users (and Google) can find everything. Your website needs to have a defined structure. Without one, it's difficult for users to navigate and difficult for search engines to crawl and discover your web pages.
Structuring your site for your users
Users need to be able to easily find what they're looking for. This means that you need to understand what information people seek out when visiting your law firm's website and put that important information  on the homepage or make it easy to access from the navigation bar.
For example, if a prospective client is looking for a personal injury attorney in Miami, they may search your firm's website for practice areas, office location, reviews, and the about section.
Look at how this law firm's website quickly addresses those needs with their navigation bar.
Putting critical items in the navigation bar makes them quick and easy to access. Take a look at these three examples of law firms ranking on the first page for "personal injury attorney" in NYC, and you'll notice they include each of the items above in their main nav.
EXAMPLE 1
EXAMPLE 2
EXAMPLE 3
For
any
practice area, it's a good idea to have these items in your navigation menu :
Practice areas, either directly on your navigation menu or as a dropdown if you have multiple services. This gets your law firm's services based keywords on every page of your site, sending strong relevancy signals to Google crawlers.
Location information, either directly on your navigation menu or as a dropdown if you have multiple locations. This gets your location-based keywords on every page of your site, sending strong relevancy signals to search engine algorithms about the geographic area you serve.
A link to your attorneys or about page, which should give an overview of the years of experience of your whole legal team.
A link to your reviews or testimonials page – to build trust.
A link to your "Contact Us" clearly labeled with a unique color where visitors can contact you via phone number, email, or an embedded contact form. This is a call to action.
Your phone number. This is another call to action. Even if you already have a "contact us" button that links to a contact page, 74% of people who land on a law firm's website are likely to contact you via phone, so making this form of contact as simple as 1 click is to your advantage.
If you're unsure about what users are likely to look for on your website, search Google for your practice areas and look at the top ranking competitors sites to get ideas for your navigation and site layout.
Finally, it's important to make sure your navigation menu is usable both on desktop and mobile.
In fact, 31% of all law firm related website traffic comes from mobile, so a large amount of your leads are likely to come from a mobile device.
Take a look at how this law firm's website made their navigation menu easy to access and use on mobile phones.
You'll notice that the area between the buttons is large enough that everything is easy to touch – even if you have a small screen and big fingers.
This is referred to as the "tap area" of a button and is a key component of converting on mobile devices. Make sure this is sized appropriately for phones and fingers of all sizes. Users can become easily frustrated if they have a difficult time tapping the correct button on a mobile device and may leave your site.
Structuring your site for Successful SEO
Google also uses your law firm's website structure to determine what website content is important and relevant information. Here are a few ways to help Google crawl your law firm website in a more effective way.
Use proper page and URL Structure
Ideally, your website as a whole should be structured like a pyramid, with your home page at the top, your category pages (the ones in your navigation menu) beneath that, and your individual pages beneath your category pages.
Not only does this make it very easy for users to find relevant content on your site, but also makes it easier for search engines to index each page of your website.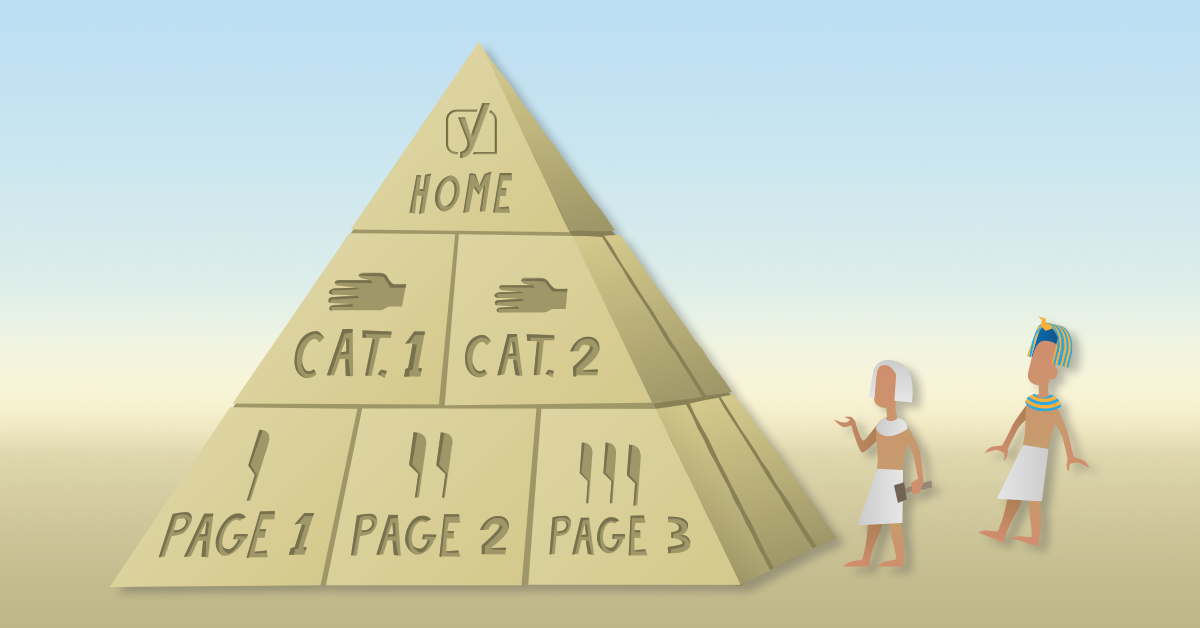 When formatting your URLs, this means that any pages linked to in the main navigation menu are only one folder deep from the homepage.
This means that they should only have one slash after the .com, .net, etc (aka. the "top-level-domain").
So, your about page should look like https://yourdomain.com/about
Any individual pages that are a subset of your category pages, like blog articles, should only have two slashes after the top-level-domain.
For example, blog articles would look like this: https://yourdomain.com/blog/how-to-hire-a-personal-injury-lawyer
Clear URL structure makes it easy for search engine crawlers to find pages on your law firm website.
Clear linking and navigation titles
The placement of navigation items is an important factor for users and search engines alike. While users are more likely to pay attention to navigation titles, search engines use the anchor text of these navigation items to determine the topical relevance of a page.
What is anchor text?
Anchor text is the clickable text in a hyperlink.
Here's what it looks like in your site's code

With this code in place, the anchor text "Jon Wye's Custom Designed Belts" would link to the URL "
http://www.jonwye.com
.
If we inspect the code on Harell & Harell's site, we can see this in action. Here's the navigation menu item's anchor text for the user.
And here is the URL structure for the link the navigation menu item points to.
The anchor text of your navigation items is important because it sends "link signals" to search engines that tell them "Hey, these pages are very important!" By having these links on every page of your law firm's website, you'll be sending strong link signals to search engines and helping them understand what these pages are about – because of the anchor text.
These same link signals can be leveraged in the footer of your law firm website as well. Adding links to pages such as to your blog, privacy policy, or sitemap in the footer can help boost the link signals to these pages without taking up space in the main navigation menu.
Proper use of H tags – How to use H tags for SEO
Header tags (commonly called H tags) outline the structure of your page. Often times, an H tag is used as the title displayed on the page, while the page title is what's displayed in the organic search results.
These tags are often followed by a number – H1, H2, H3, etc. This is to show where they lie in the hierarchy of your page structure.
Common H tag page formatting looks like this:
See how they outline the hierarchy structure of a page? H1 would be the page title, H2 would be a subtopic of the page, and H3 would be a subtopic of the H2 header.
Notice the difference between these 2 articles. One is using H tags properly, while the other is writing their headlines in plain text.
Header Tags Used Properly
Header Tags Not Used Correctly
Using H tags for your headlines helps search engines understand the structure of your page
and
makes it easier for your users to find what they're looking for more quickly.
When writing your H tags, keep a few things in mind:
Only use 1 H1 tag on your page.
Use H2, H3, and other H tags to segment out the content of your page.
Use related keywords in your HTML tags.
Step 2. Create and optimize your law firm's Google My Business listing
85% of people use online maps, such as Google Maps, to find legal services.
Google Maps is a huge part of local SEO. If your firm largely targets local clients, then getting listed on Google Maps is a must.
How to add your law firm to Google Maps
So, how do you get listed on Google Maps?
By creating a Google My Business listing.
Here's how.
Google My Business best practices
Google uses information from Google My Business to display information for searches that have local area intent.
Not only that, but rather than listing information from your website on search results, Google often pulls business information from your Google My Business listing as well.
The information for Morgan & Morgan in the above screenshot is coming from their Google My Business listing.
Clearly, it's important that this information is up-to-date, accurate, and fully optimized.
How to optimize your law firm's Google My Business listing
Here's how to optimize your firm's Google My Business account:
Enter your business information correctly on the map so users can easily find you.
List the official website of your law firm.
Include your opening hours.
Make sure your business name, address, and phone number is EXACTLY the same as listed on your website. Google aggregates this information from across the web.
Choose the most appropriate and specific category for your firm so that you show up in the right search terms.
Add photos of your office, staff or anything else you'd like that's relevant and professional.
Describe your law firm. Include links and relevant keywords in the introduction.
If you're interested in seeing how users behave with your listing, check out Google My Business insights.
Step 3. Make your law firm website as fast as possible
Google is now mobile-first, which means they assume users are accessing your site with a 5G connection.
They want to provide users with a great page experience. Presenting users with slow websites doesn't accomplish this, so if you want higher rankings, your website needs to be fast.
Due to its impact on user experience, website speed is one of the most important SEO ranking factors.
If a website takes a long time to load, the user will click back to Google to find a better choice. Google will simply think the user didn't find what they were looking for and your website rank will drop.
Amazon found clear correlations between page speed and bounce rate. Just a few seconds too long, and your users are 32% more likely to leave.
Google takes page speed and bounce rate into consideration when ranking your website, so it's important to make your site as fast as possible.
To make your site as fast as possible, use Google's PageSpeed Tool to see how your site loads on desktop and on a 5G connection. This tool is a simple way to discover any issues that you can address to make your site faster.
Step 4. Make sure your site is mobile friendly
Consider this – you're a personal injury attorney, and a potential client just got into a car accident.
They try to access your site to call you, but they have a poor mobile connection.
Or worse, they're nervous – their adrenaline is pumping – and they're having trouble tapping their screen with accuracy.
Your website takes too long to load, and when it finally does, the user pushes the wrong button on accident, so they move on to the next listing in Google.
This is why mobile optimization is important for attorney websites.
At a minimum, you should make sure that:
Your website loads quickly on mobile.
Your buttons are sized well enough that people with small screens or big fingers can tap them without accidentally tapping a different button.
Keep important information above the fold – i.e. keep your call to action visible without requiring users to scroll down.
Have a click to call button for mobile.
Check out Lawrence Law Group's site as an example of doing this correctly.
Finally, you should make sure your design is
great
.
57% of users won't even consider your firm
if the website is poorly designed on mobile.
This, and Google prioritizes mobile experiences when ranking websites.
Step 5. Secure your law firm's website with SSL (Secure Socket Layer)
Ever come across a website and see something like this?
Or worse, this?
Do these websites encourage trustworthiness or make you feel that your data would be safe?
As an attorney, you know that trust between you and your target audience is important, so why would this be any different online?
This is what happens when a website isn't secured with an SSL certificate.
SSL stands for Secure Sockets Layer, and is essentially a form of validation for your website that confirm there aren't any intermediaries between a page and the web host that could potentially steal a users information.
Basically, an SSL certificate proves that a website is who they say they are. This is shown by a site having https instead of http at the beginning of their domain.
Google has also confirmed that it is, in fact, taken into consideration for rankings.
Often times, you can get an SSL certificate through your web hosting provider. They're usually available for an annual fee, and will fix all of the issues associated with "website not secure" popups or messages.
If you prefer to go the route of free, or would rather have your SSL certificate not tied to your web hosting provider, you can use a service like Let's Encrypt instead.
Once you get your certificate set up, plug your homepage https URL into Why No Padlock? to have their tool crawl your site and make sure it's implemented correctly.
A few things to note about getting your site SSL certified:
Google will treat this as if you're moving your site to a new domain name, which means you may temporarily lose search rankings and organic traffic until Google crawls your site again and reindexes your new https pages.
You could end up with a lot of broken links, so it's important to make sure you properly 301 redirect your http links to your new https links when migrating to https.
KEYWORD RESEARCH
Step 6. Understand searcher intent and keyword types
Before you start optimizing your law firm's website, you need to know what kind of keywords you're going to go after.
In attorney SEO, as in all SEO, a keyword is really just a search term that Google's users type to find what they're looking for.
What they're looking for is described as searcher intent – and can be broken down into three categories:
Awareness
Evaluation
Purchase
Searcher intent addresses the question "what are the searchers really looking for?"
Let's assume a musician is trying to copyright their music. Here are some search terms they might use in each stage.
Awareness – This is where the musician is looking for answers, resources, educational material, and insights. Example search terms (or keywords) may include:
How can I protect my music?
Do I copyright or trademark a song?
How to copyright a song
Evaluation – This is the middle stage where the musician knows what needs to be done and is researching options. Example search terms (or, again, keywords) in this stage may include:
Music lawyers near me
Who are the best copyright lawyers in Nashville
Copyright lawyer reviews
Purchase – This is the final stage where the musician is figuring out what it would take to become a customer. Keywords used in this stage are likely to be very specific:

Law firm name contact info
Lawyer name contact info
In this example, the musician wanted to protect their music, learned more about what's involved, then narrowed down the options until they found the best one for them, then took steps to contact the appropriate firm.
The closer a user gets to a purchase, the longer the keywords usually are. This is where the phrase long-tail keywords comes from.
Step 7. Find the right keywords
Now that you understand searcher intent and know about how people use Google to make purchases, let's dive into some keyword research.
To find new keyword phrase ideas, just head over to Google's Keyword Planner, log in, and click "Discover new keywords."
Next, enter your website or a keyword of your choice to get started. For this example, I'm going to enter a keyword.
Finally, click "Get Results" and you'll be able to browse a huge list of keywords Google's tool has generated for you!
You'll notice that you have columns that show you the monthly search volume and the cost-per-click bid range if you were to run ads.
If a keyword has a high bid, that means advertisers are bidding high amounts for that search query in PPC advertising campaigns –likely because it drives sales.
That means these keywords are likely to have high purchase intent. These are the keywords that you'll likely want to target with pages that have lots of call-to-actions.
If you want more keyword ideas, you can leverage Google. Just take one of your chosen keywords, plug it into Google's search box, and look at the "People also ask" section.
If you click one of the questions, Google automatically generates more of them.