2020 Google Search Updates
2020 October – Indexing Bugs
From early September to the beginning of October, Google experienced multiple bugs with mobile indexing, canonicalization, news-indexing, top stories carousel, and sports scores breaking. The bugs impacted about .02% of searches. Google fully resolved all impacted urls by October 9th.
Additional Reading:
2020 August 11 – Google Glitch
On Tuesday, August 11th, Google experienced a massive, worldwide indexing glitch that impacted search results. Search results were very low-quality or irrelevant to search queries, and ecommerce sites in particular reported significant impacts on rankings. Google resolved the glitch within a few days.
Additional Reading:
2020 June – Google Bug Fix
A Google representative confirmed an indexing bug temporarily impacted rankings. Google was struggling to surface fresh content.
Additional Reading:
2020 May – Core Quality Update
This May 2020 core update was one of the more significant broad core updates with the introduction of core web vitals and increased emphasis on E.A.T. This update was a continuation of an effort to improve the quality of SERP results with COVID related searches. The update most significantly impacted those sites with low-quality or unnatural links. However some sites with lower-domain authority did appear to see positive ranking improvements for pages with high-quality, relevant content.
Later today, we are releasing a broad core algorithm update, as we do several times per year. It is called the May 2020 Core Update. Our guidance about such updates remains as we've covered before. Please see this blog post for more about that:https://t.co/e5ZQUAlt0G

— Google SearchLiaison (@searchliaison) May 4, 2020
Many SEOs reacted negatively, particularly because of the timing of the update, which occurred at the height of economic shutdowns to slow the spread of coronavirus. Some concerns about the May 2020 core quality update ranged from social media SERP domination and better SERP results for larger, more dominant brands like Amazon and Etsy. Some analysis noted these changes may have been reflecting user intent from quarantine, particularly because the update focused on providing better results for queries with multiple search intents. Google's responded to the complaints by reinforcing existing content-quality signals.
Additional Reading:
2020 March – COVID-19 Pandemic
Although not an official update, the coronavirus outbreak led to an unprecedented level of search queries that temporarily changed the landscape of search results. Google made several changes to adjust to the trending searches such as:
Increased user personalization to combat misinformation

Removed COVID-19 misinformation across YouTube and other platforms

Added "Sticky Menu" for COVID related searches

Added temporary business closures to the Map Pack

Temporarily banned ads for respirators and medical masks

Created COVID-19 Community Mobility Reports

Temporary limited certain Google My Business listings features
Additional Reading:
2020 February 7 – Unannounced Update
In February of 2020, many SEOs reported seeing significant changes to rankings, although Google had not announced and denied any broad core update. Various analysis of the update showed no clear pattern between websites that were impacted.
Additional Reading:
2020 January 22 – Featured Snippet De-duplication
Prior to this January 2020 update, those sites that earned the featured snippet, or "position zero," also appeared as the subsequent organic search result. This update de-duplicated search results to eliminate this double exposure. This impacted 100% of searches worldwide and had significant impacts on rank tracking and organic CTR.
Additional Reading:
2020 January – Broad Core Update
On January 13th, 2020, Google started rolling out another broad core update. Google did not provide details about the update, but did emphasize existing webmaster guidelines about content quality.
Additional Reading:
2019 Google Search Updates
2019 November Local Search Update
In November of 2019 Google rolled out an update to how local search results are formulated (ex: map pack results). This update improved Google's understanding of the context of a search, by improving its understanding of synonyms. In essence, local businesses may find they are showing up in more searches.
In early November, we began making use of neural matching as part of the process of generating local search results. Neural matching allows us to better understand how words are related to concepts, as explained more here: https://t.co/ShQm7g9CvN

— Google SearchLiaison (@searchliaison) December 2, 2019
2019 October 26 BERT
In October Google introduced BERT a deep-learning algorithm focused on helping Google understand the intent behind search queries. BERT (Bidirectional Encoder Representations from Transformers) gives context to each word within a search query. The "bidirectional" in BERT refers to how the algorithm looks at the words that come before and after each term before assessing the meaning of the term itself.
Here's an example of bi-directional context from Google's Blog:
In the sentence "I accessed the bank account," a unidirectional contextual model would represent "bank" based on "I accessed the" but not "account." However, BERT represents "bank" using both its previous and next context — "I accessed the… account" — starting from the very bottom of a deep neural network, making it deeply bidirectional.
The introduction of BERT marked the most significant change to Google search in half a decade, impacting 1 in 10 searches — 10% of all search queries.
Additional Reading:
2019 September – Entity Ratings & Rich Results
If you place reviews on your own site (even through a third party widget), and use schema markup on those reviews – the review stars will no longer show up in the Google results. Google applied this change to entities considered to be Local Businesses or Organizations.
The reasoning? Google considers these types of reviews to be self-serving. The logic is that if a site is placing a third party review widget on their own domain, they probably have some control over the reviews or review process.
Our recommendation? If you're a local business or organization, claim your Google My Business listing and focus on encouraging users to leave reviews with Google directly.
Additional Reading:
2019 September – Broad Core Update
This update included two components:First, it hit sites exploiting a 301 redirect trick from expired sites. In this trick users would buy either expired sites with good SEO metrics and redirect the entire domain to their site, or users would pay a 3rd party to redirect a portion of pages from an expired site to their domain.Note: Sites with relevant 301 redirects from expired sites were still fine.
Second, video content appears to have gotten a boost from this update. June's update brought an increase in video carousels in the SERPs. Now in September, we're seeing video content bumping down organic pages that previously ranked above them.
We can see this at an even greater scale looking at two purely text and purely video sites – YouTube and Wikipedia. We can see that for the first time, YouTube has eclipsed Wikipedia in the Google search results.
Additional Reading:
2019 June – Broad Core Update
This is the first time that Google has pre-announced an update. Danny Sullivan, Google's Search Liaison, stated that they chose to pre-announce the changes so webmasters would not be left "scratching their heads" about what was happening this time.
What happened?
We saw an increase in video carousels in the SERPs
Low quality news sites saw losses
What can sites do to respond to this broad core update? It looks like Google is leaning into video content, at least in the short-term. Consider including video as one of the types of content your team creates.
Additional Reading:
2019 May 22-26 – Indexing Bugs
On Wednesday May 22nd Google tweeted that there were indexation bugs causing stale results to be served for certain queries, this bug was resolved early on Thursday May 23rd.
By the evening of Thursday May 23rd Google was back to tweeting – stating that they were working on a new indexing bug that was preventing capture of new pages. On May 26th Google followed up that this indexation bug had also been fixed.
Additional Reading:
2019 April 4-11 De-Indexing Bugs
In April of 2019 an indexing bug caused about 4% of stable URLs to fall off of the first page. What happened? A technical error caused a bug to de-index a massive set of webpages.
Additional Reading:
2019 March 12 – Broad Core Update
Google was specifically vague about this update, and just kept redirecting people and questions to the Google quality guidelines. However, the webmaster community noticed that the update seemed to have a heavier impact on YMYL (your money or your life) pages.
YMYL sites with low quality content took a nose-dive, and sites with heavy trust signals (well known brands, known authorities on multiple topics, etc) climbed the rankings.
Let's take two examples:
First, Everdayhealth.com lost 50% of their SEO visibility from this update. Sample headline:Can Himalayan Salt Lamps Really Help People with Asthma?
Next, Medicinenet.com saw a 12% increase in their SEO visibility from this update. Sample headline: 4 Deaths, 141 Legionnaires' Infections Linked to Hot Tubs.
This update also seemed to factor in user behavior more strongly. Domains where users spent longer on the site, had more pages per visit, and had lower bounce rates saw an uptick in their rankings.
Additional Reading:
2019 March 1 – Extended Results Page
For one day, on March 1st, Google displayed 19 results on the first page of SERPs for all queries, 20 if you count the featured snippet. Many hypothesize it was a glitch related to in-depth articles, a results type from 2013 that has long since been integrated into regular organic search results.
Additional Reading:
2018 Google Algorithm Updates
2018 August – Broad Core Update (Medic)
This broad core update, known by its nickname "Medic" impacted YMYL (your money or your life) sites across the web.
SEOs had many theories about what to do to improve rankings after this update, but both Google and the larger SEO community ended up at the same messaging: make content user's are looking for, and make it helpful.
This update sparked a lot of discussion around E-A-T (Expertise, Authoritativeness, Trustworthiness) for page quality, and the importance of clear authorship and bylines on content.
Additional Reading:
2018 July – Chrome Security Warning
Google begins marking all http sites as "not secure" and displaying warnings to users.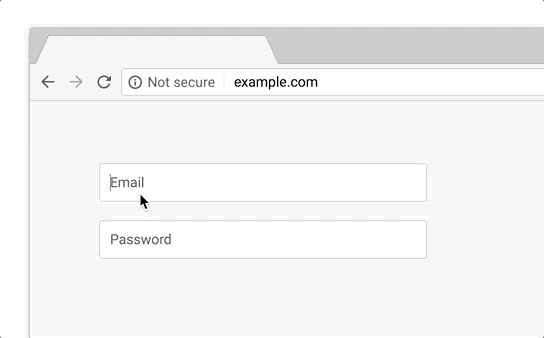 Google views security as one of their core principles, so this change makes sense as the next step to build on their October 2017 update that began warning users about unsecured forms.
Looking forward, Google is planning on blocking mixed content from https sites.
What can you do? Purchase an SSL certificate and make the move from http to https as soon as possible. Double check that all of your subdomains, images, PDFs and other assets associated with your site are also being served securely.
Additional Reading:
2018 July – Mobile Speed Update
Google rolled out the mobile page speed update, making page speed a ranking factor for mobile results.
Additional Reading:
2018 June – Video Carousels
Google introduces a dedicated video carousel on the first page of results for some queries, and moves videos out of regular results. This change also led to a significant increase in the number of search results displaying videos (+60%).
Additional Reading:
2018 April – Broad Core Update
The official line from Google about this broad core update, is that it rewards quality content that was previously under-rewarded. Sites that had content that was clearly better than the content of it's organic competitors saw a boost, sites with thin or duplicative content fell.
2018 March – Broad Core Update
March's update focused on content relevance (how well does content match the intent of the searcher) rather than content quality.
What can you do? Take a look at the pages google is listing in the top 10-20 spots for your target search term and see if you can spot any similarities that hint at how Google views the intent of the search.
Additional Reading:
2018 March – Mobile-First Index Starts to Roll Out
After months of testing Google begins rolling out mobile-first indexing. Under this approach, Google crawls and indexes the mobile version of website pages when addi