Finding clients is a challenge. With a long-term service like SEO, keeping them can be even harder. As an account manager or salesperson in a digital agency, you have to show clients, whether small businesses or major corporations, quality SEO results on a regular basis in order to keep them engaged and excited about your SEO efforts. Thankfully, the right SEO reporting software for clients can showcase your results in just a few clicks.
When to use SEO Reporting Tools
Of course you'll use SEO reporting software for clients' monthly or annual reports and renewals. But you can also use SEO report software for a pre-launch meeting or as a recap of a specific project. What metrics will you use for each of these types of reports?
Pre-Launch Reports
When you've landed a client, it makes sense to scope out the client's current web presence and SEO standing. A broad "as-is" analysis will give you the visibility to create a smart, actionable SEO strategy tailored specifically to your client.
The best SEO reporting software will be able to generate a report with items like
Domain authority
Current keyword rankings
Current website traffic
Estimated Value of Traffic (EVOT)
Number of referring backlinks
From here, you can go more in-depth for the areas where your specific client needs more work, like identifying and cleaning up toxic backlinks or finding opportunities to quickly increase keyword rank with new or refreshed content.
For these reports, you'll need an expansive SEO reporting software that gives you a solid basis as well as in-depth analysis. Each pre-launch report will be unique to the client, focusing on their individual target keywords, current traffic report, and business goals. A detailed report like this will be hard to automate, but communicating your SEO goals for the client early gets you started on the right foot.
Active Campaign Reports
The majority of your reports will be updates for active SEO campaigns. Here, report templates and automation are a game changer. Instead of wrestling with spreadsheets and building a custom report each month, you set it once and refresh your data for the next month, saving you time and effort. Working with report templates also lets you focus on the data and notice fluctuations quickly.
You'll also want tools that capture your preferred timeline. A program like Agency Analytics has limited timeframe options. If you're comparing stats on a different timeframe than what's offered, then you have to create custom SEO reports instead of leveraging their templates.
Active campaign reports will focus on:
Change in keyword rankings
Change in organic traffic
Change in number of referring backlinks
Changes in specific URLs
Of course, any specific customer metrics that you agreed upon at the pre-launch should also be tracked by your SEO reporting software for clients. Some SEO tools, like Jess, claim to automate not just your data, but your sales story as well.
Emergency Reports
Sometimes there's a massive change in the SEO ecosystem. These changes could be a competitor dramatically raising PPC investment and therefore ad prices, a Google algorithm update requiring technical SEO, or regulatory changes in the client industry that impact social media.
When these disruptions happen, a standard weekly or monthly report won't be enough. A full site audit would be too much. These client reports need to be focused on the SEO strategy that specifically addresses this new challenge.
Post-Campaign Reports
Sometimes, you'll have a project that's focused on a specific goal, or one that's time-limited. One example would be a Christmas campaign. Or maybe you're doing an initial 3-month pilot project for a client.
In these cases, a post-campaign audit can highlight not just your ongoing work, but can show the client the ROI for the campaign. A positive SEO report at the end of a project can put you on good footing for another contract.
Here, you'll want to focus on the value you provided. Metrics may include:
Change in EVOT
Total increase in traffic
Total increase in rankings
Any increase in conversions that the client has shared
Increases in CTR
This report needs to show how you took the client to the next level through your specific actions.
What to look for in SEO Reporting Software for Clients
SEO report software can be a productivity boon if done right. However, it's easy to get lost in vanity metrics and a massive amount of data. Some tools have the right data, but no easy way to show it to clients. Let's look into some of the most important traits of the best SEO reporting software.
Accurate, timely data from trusted sources
SEO reporting tools use different data sources. Ahrefs brags about its extensive web crawls that make up the source of its information. Google Data Studio obviously pulls from Google Analytics and Google Search Console. Each of these approaches has pros and cons.
Google
| Pros | Cons |
| --- | --- |
| Data collected in as close to real time as possible | Only covers searches through Google and not other search engines |
| Easily verifiable by client | Sometimes data is not consistent between views inside of Google Analytics |
| Data provided with no charge | Purposely hides certain keyword data (not provided) |
Pros and cons of using Google as your SEO reporting software for clients
Third Party Crawls
| Pros | Cons |
| --- | --- |
| Covers all search engines, not just Google | Crawling takes time, so data can be weeks or months old |
| Provides information on general search volume, not just your site's performance | Monthly fees |
| Compare competitor performance | No information on on-site activity |
Pros and cons of using third party crawls
As you can see, the approaches of these SEO reporting tools actually compliment each other. Google Analytics and Google Search Console report activity specific to your (or your client's) site, but don't give you overall search volume or competitive insight.
To give your customers the best SEO report, you'll want to blend information from both sources. While it's great to show improvements in rankings, traffic and conversions, you may want to show the broader picture as well to identify additional keyword targets or how a company has overtaken a competitor.
Metrics From SEO Reporting Software for Clients
In a perfect world, you and the client have set up a project with a clear deliverable and realistic metrics, like increasing keyword rank by 3 positions on average. Since we live in the real world, it's rare that clients have those kinds of specific, measurable KPIs. Instead, goals tend to be general, like "increase traffic" or "more conversions."
The challenge is to tell the story of how your actions as an SEO agency reached the client's goals. You have to explain how keyword research and link building led to keyword rank, which turned into traffic and conversions for your clients, over and over again.
As an experienced SEO professional, you probably already have a good idea of what metrics are important to your clients. You'll want to ensure that the SEO reporting software you choose can accurately show those KPIs in understandable visualizations. The best SEO report does you no favors if it doesn't cover what your customer cares about.
Clear Visualizations
To really deliver your message, you need to show your results in a way that speaks to your clients. SEO reporting software for clients should be able to convert the raw data, whether it comes from Google or from proprietary research, into engaging charts and graphs that non-SEOs understand.
Fresh Insights into Performance
Sometimes it takes a fresh insight to highlight your hard work. You'll want to look into how each SEO software tool can divvy up your site.
By default, Google can show you information on use by device, location, and more. LinkGraph's GSC Insights offers Page Groupings, which allows you to see how certain groups of pages perform. Instead of manually compiling data for, say, blog posts vs static pages, GSC Insights lets you group pages together to get impression and traffic data for those aggregates, saving you time.
White Label SEO Reporting Software for Clients
As a digital marketer, you want to spend time with clients or working on projects, not creating SEO reports. White label reports can save you time while maintaining your brand identity.
White label SEO reports are often automated reports that export to a PDF format. These effective SEO reports have great scalability and are perfect for clients with a basic understanding of good SEO.
Local SEO
If your clients need local SEO, then you'll want to keep this in mind when choosing your SEO tools, including your reporting tools. Your clients may appreciate being able to compare a list of keywords for each city or state, or seeing SERPs for distinct geographic areas.
It seems like each research tool has a different approach to local SEO, so it's hard to say which is the best tool for local SEO. LinkGraph's Local SEO Results tool lets you peek into the search results in different areas, no matter where your office is. You can see how the client's website appears in San Diego and San Francisco, even if you're in San Antonio.
Formatting Options
As reports are used for different purposes, it's helpful to have a reporting tool that supports multiple reporting formats. PDF reports are great for emails or in-person meetings. CSVs are a best practice when you're combining information from multiple sources for a custom report. Exporting to Google Sheets can be extremely convenient as well. Check that your provider offers exports in formats that you need.
Google Data Studio
Google Data Studio is the Big G's effort to make their data more accessible to webmasters, digital marketers and agencies. It allows you to pull together data from multiple sources, including Google Analytics, Google Search Console, Google Ads and more to create an interactive visual dashboard.
The interface is easy enough to use, at least theoretically. Once you've connected your Analytics and GSC accounts, you drag and drop the metrics you're looking at onto a workspace. You can create a completely custom report, from colors and fonts to data timeframes.
The sheer number of data points to choose from can be overwhelming. And you're pretty much starting from scratch. There are a few basic templates inside GDS from the get-go, but you'd have to invest significant time to create your first SEO report template.
On the positive side, Data Studio is free – no month to month plan or teaser free trial. Since you're working directly with Google Analytics data, there's no doubt about accuracy or timeliness.
GSC Insights
But what if there was a way to get that GSC data faster, without having to build your own dashboard? That's where LinkGraph's GSC Insights shines.
This dashboard visualizes the most common important statistics for agencies and clients, including EVOT. In addition to standard metrics like traffic and total number of keywords, GSC Insights includes graphs for:
Keyword position history
Rank change
30-day trailing traffic and impressions
Traffic by keyword position
Even better, the Page Grouping feature saves you from wrestling with Google Sheets to present information on the most important pages of the site.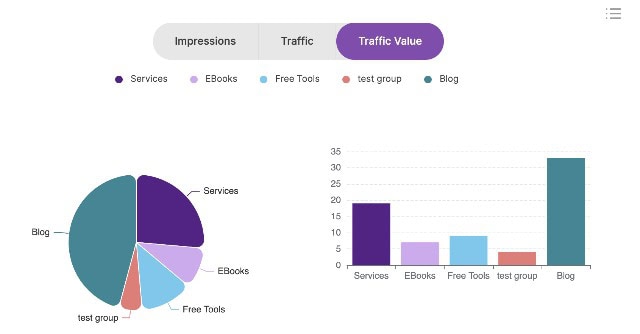 You choose the groups and can see the aggregate impressions, traffic, and value of traffic for those groups of pages. Page Groupings is a great way to easily pull more value out of your data.
SEO Reporting Software for Clients makes a Difference
Whether you go with Data Studio for a DIY solution with professional visualizations, a full-bodied SEO tool like LinkGraph, ahrefs, or Moz for reporting and research, or a dashboard tool like Agency Analytics or Jess, the SEO reporting software for clients that you choose will have a lasting impact on your business. You'll want to balance packaged reports that save time vs custom options that give you flexibility.
LinkGraph's GSC Insights leverages the accuracy of GSC and Data Studio without the heavy time investment. It includes exclusive ways to slice and dice your data, like Page Groupings, to wow your clients. It covers all the data you need with exciting charts and graphs, eliminating the need for exports and templates.