Every business can benefit from incorporating SEO blog writing into their digital strategy. Having a blog on your website allows your brand to target new keywords and share useful, helpful, and original content with your target audience.

To write SEO-friendly blog posts, it's essential to ensure that your company's content is optimized for the right keywords, shown to the right target audience, and is properly crawled, indexed, and understood by search engines.
Here's a complete guide on how to write SEO-friendly blog posts and the many benefits of having a library of useful content assets that permanently live on your website.
To learn how to write seo-friendly blog content, sign up for LinkGraph's SearchAtlas software. Our software includes powerful content tools like the SEO Content Assistant, Blog Topic generator, and our Meta Tag Optimizer.
What is SEO-friendly Blog Content?
Google looks to fill search engine results pages with unique, original, and valuable content. Blog posts are an excellent opportunity for your brand to demonstrate industry expertise and authority. 
Creating SEO-friendly blog posts encompasses more than just keyword research and meta tag optimization. Google looks for other relevance and quality signals on the page, like semantic richness, originality, content length, topical depth, and even expert authorship.
The effective use of keywords and backlinks are ideal means of signaling relevancy and authority. However, content quality remains Google's number one priority. The most important goal to strive for with every blog you publish is to satisfy the searcher's intent.
The best way to begin formulating SEO-friendly blog content is to examine trending topics within your current niche. To start generating ideas, consider the following questions.
What industry-related questions does my target audience have? 

Does my company have any special areas of expertise?

What are trending topics that my company has authority in?

Does my audience need help understanding my products or services?

What topics are my competitors writing about?
Why are SEO Blog Posts Important?
There are so many benefits to regularly publishing blog content on your website. These benefits extend beyond just helping your audience, but have major benefits to improving your overall rankings in search engines.
Blog content can

increase your total keyword rankings

, meaning more market share

Having permanent content assets on your website can

drive traffic for the long-term

Showing up for lots of relevant keyword searches in your industry

improves brand awareness

, even if the user doesn't click to your website

Blog posts are great assets to link to and are a safe way to increase your site authority through link building
How to Write SEO-Friendly Blog Posts
Blog writing can be informational, insightful, or in the style of a how-to guide. But in summary, great quality blog content provides readers with a better understanding of the particular topic they are researching.
Blog writing for SEO success can seem complicated given the intricacy of search engine ranking factors. But to simplify the process, know that search engines and users define great content by the following qualities:

Relevancy

Comprehensiveness

Readability

Authority



Keeping these four elements in mind will help your brand perfect its content strategy while building brand awareness and fostering industry relationships through blog content.
1. Find Relevant Topics Through Keyword Research
Relevancy is one of Google's driving factors in earning page 1 SERP rankings. That's why first and foremost, your SEO blogging should always be guided by a strong keyword strategy.
To start identifying relevant keyword targets for blog posts, do the following.
Find Blogging Opportunities with the Keyword Researcher
The Keyword Researcher tool in your dashboard can help you find multiple relevant keyword phrases that present blogging opportunities. 
Most likely, your primary product or service pages are targeting the most valuable keywords in your industry. Blog posts, however, present the opportunity to target relevant long-tail keyword phrases. Long-tail keywords usually have smaller search volume but still display strong search intent. 
To get started, input the primary keyword target that you want to rank for into the Keyword Research tool. Then, use the "Related Keywords," "Autocompletes," and "Questions," feature to see other phrases users are entering into the Google search bar that have a relationship to your primary keyword target.
Once you have a list of relevant keyword targets, you can start generating blog ideas around them.
Use the Blog Ideas Feature in the SEO Content Assistant
To generate blog post ideas, you can certainly rely on the power of your own creativity and brainstorming. But if you need a little more help, use the Blog Ideas feature in your SearchAtlas dashboard.
First, enter the keyword target that you want to create a blog post around.
Then click "Generate Ideas." The tool uses GPT-3 technology to develop blog post titles as well some accompanying text to help you get your blog started.
If you'd like, you can export your blog ideas to a CSV file to review them with your in-house team of writers.
Develop an Editorial Calendar with your Blog Topics
Every blog post you create should target a new keyword. That's because every keyword presents a new opportunity to get your content in front of more potential customers. 
So ideally, your brand should be regularly writing and publishing blog posts. An editorial calendar can help you stay consistent, meet deadlines, and then track the SEO progress of the blogs you publish.
When do you stop generating blog ideas? Well, until all of the questions that your potential customers ask are answered on your website.
Because there are literally thousands of ways that users are searching for products, services, or expertise like yours, your blog content should be ongoing for as long as your website exists.
2. Create Comprehensive Blog Posts to Signal Quality
After you have your keyword targets and blog titles, it's time to get writing.
The most important goal of SEO blog writing is to satisfy your user's intent. Is the user looking for an answer to a specific question? A tutorial for how to use a product? A how-to guide or a top-ten list? More than anything else, your blog should satisfy the user's initial search query.
But in addition to relevance, Google will also be looking to see whether your blog posts are as high quality as your competitors. Here are some types for creating in-depth, quality blogs that search engines will love (and thus rank better in the SERPs).
Take a Look at Your Competitors
When trying to understand what will help your blog posts rank well, there's no better place than to look at your competition. 
The SERP Overview feature in the Keyword Researcher will show you what content is already ranking for your target keyword.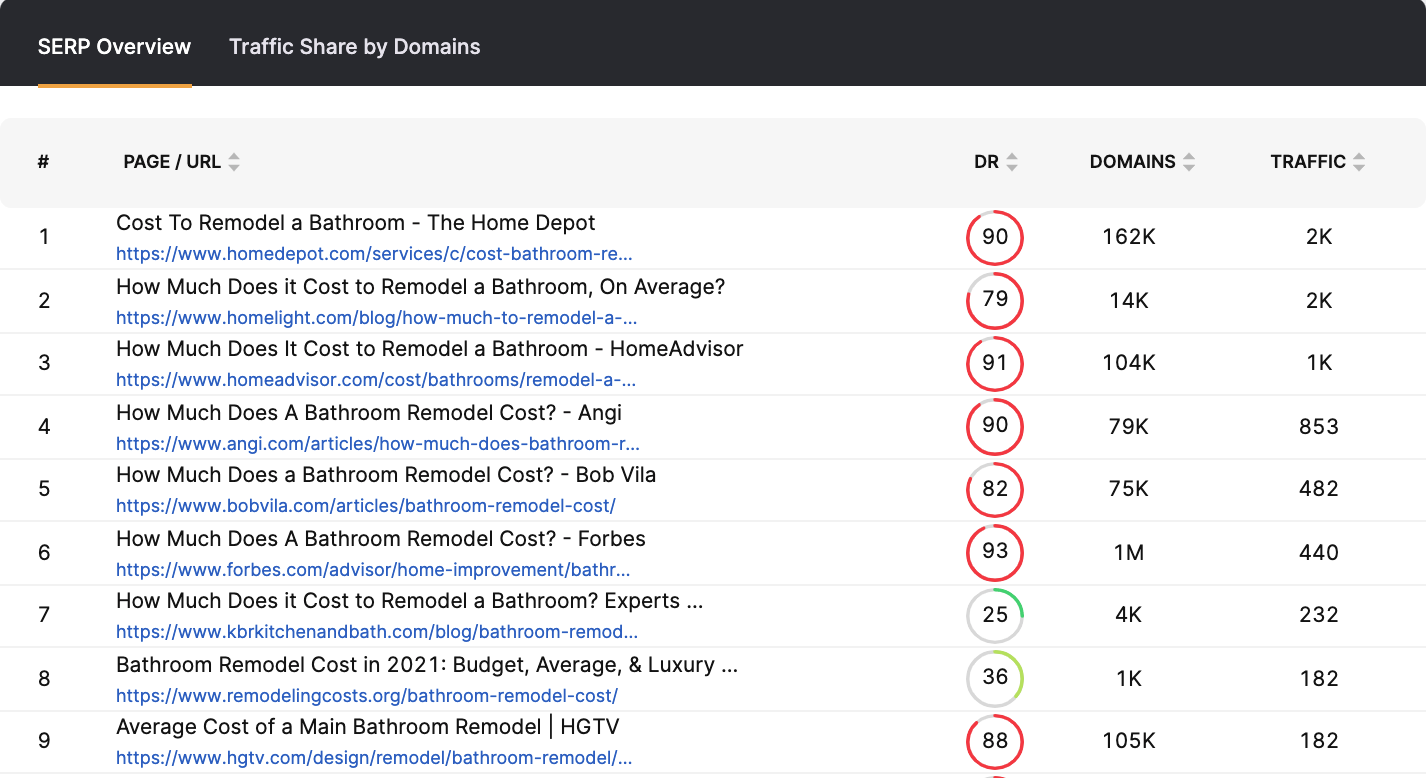 Review the top-ranking content and take note of page titles, heading tags, rich media, content length, and other factors. 
Then, do your best to emulate those elements in your own blog post.
See What Google is Showing Users Who Search for your Keyword
Google helps searchers on their quest for knowledge with autocomplete suggestions and the "related search" section near the bottom of the search results page. These features can also help you develop your blog posts to be more comprehensive.
For example, say your general contractor business wants to write a blog post about the costs associated with bathroom remodels. The SERP autocompletes and Related Searches feature can provides some insights into related questions that users are asking about the topic.
Instead of just focusing on the costs of a bathroom remodel, your blog post should also break down cost by various square footage, the costs based on location, as well as how much value a remodel can add to the home.
If the user finds all of the answers to these questions in your one blog post, they are less likely to return to the SERPs with more questions, which signals to Google that your post is comprehensive and useful.
Improve the Semantic SEO of your Blog Posts with the SEO Content Assistant (SCA)
Semantic SEO is the practice of satisfying user intent through semantics. 
Semantically-rich content not only contains the target keyword, but related keyword phrases, subtopics, and answers to common questions that users have in relationship to the topic. 
To write your SEO-friendly blogs with semantic SEO in mind, use the SEO Content Assistant in your dashboard. The tool uses NLP technology to suggest the relevant focus terms and questions that will give your blog more ranking power.