Many websites don't realize that a Google My Business listing can help all businesses rank better, not just local brick and mortar shops. If you're a local business, a GMB listing is essential. If you're not a local business, a GMB listing and setting a national or international service area can help you scoop up additional long-tail keyword searches.
For businesses that are local, GMB is the most critical item you can setup for your business — and you don't even need a website first (although it helps). If you don't have a website yet, Google can provide a basic one for you, free of charge! So there's no excuse not to get started TODAY.
Sign Into Google My Business
Go to https://www.google.com/business/ and sign in. You'll need a Google Account.
Don't worry if you don't have an Account – signing up is very simple. Press the blue "manage now" button on the Google My Business landing page and then click create account.
The create account button is in the bottom left hand corner of the sign in box.
When you click the create account button, you'll be prompted to select personal or business.
If you select business, you'll be taken to this form to complete.
Check If A Listing Already Exists
Once you're logged in, check to see if your business is already listed with Google using the search function. Try a couple variations and spellings if it's not showing up right away – you want to avoid creating a duplicate listing if one already exists.
Claim or Create Your Business
If you find your business – claim it!
If your business is not listed yet at all – create it!
Confirm or Adjust Your Business Name
The next step lets you confirm/adjust your business name:
Select Your GMB Business Category
Now select a category for your business. You can change this later, or add additional categories. — so don't stress too much about this choice.
Start typing in potential categories to surface options, or view a full list of categories here.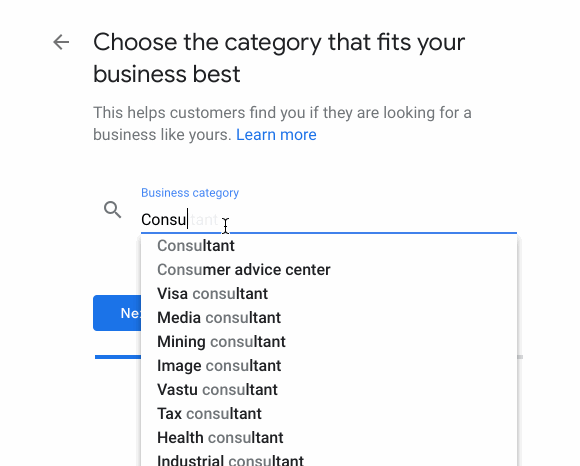 Each category has a GCLID (a specific technical ID) that may be able to help you pick between categories that may seem similar.
Take these two categories for example Commercial Photographer vs. Photography Service. You might feel unsure which category to select as a professional photographer.
The GCLIDS in this instance may help clarify your choice – Commercial Photographer has the GCLID advertising_photographer and Photography Service has the GCLID photography_service.
Most GCLIDs will be roughly the same as the category name.
Set Address or Service Areas
Select whether or not you have a physical location for users to visit.
Option 1: Select Yes and Add Your Physical Address
If you select Yes then Google will prompt you to add an address (this should be your primary location, you can add more locations later).
Option 2: Select No and Add Your Service Areas
If you select No then Google will prompt you to add your service areas – the areas where you will provide services in person, via mail, or digitally.
You can answer with specific cities or neighborhoods like this:
Or you can target broader regions by adding states or even countries: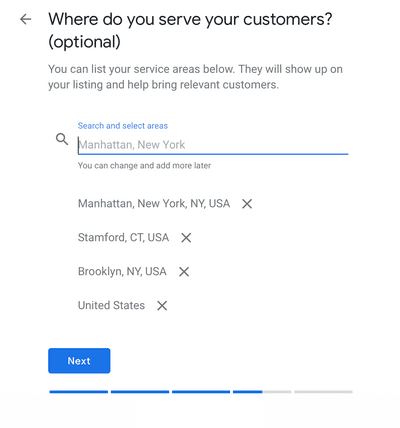 Add Contact Information for Your Business
Next you'll add your contact information for your business, if you don't have a website Google can even give you a free one at this stage to help you get setup.
Verify Your Business
Once you've entered your contact information, Google will either tell you that your business has been verified, or that they need to send a verification postcard to your physical address to verify the listing:
Once you enter a physical address or confirm your physical address (if needed) you'll get a confirmation screen:
When you press continue, you should be taken to your GMB dashboard.
Create Your First Post
Within your GMB dashboard you have a number of additional ways to capture users, starting with creating posts.
You can create posts highlighting updates, offers, upcoming events, or even use them to promote recent blog posts.
They will display under your GMB listing.
Add Your Products/Services
You can also add your products and services to make it easier for users to find them from search.
They will also display below your GMB listing.
And if users click in to explore a category they will be able to see a full listing of your products and services.
Take Advantage of Your GMB Listing's Q&A
You can also use your GMB listing to interact with potential customers through Questions & Answers.

As a business you can answer questions submitted by customers, but you can also ask questions yourself and THEN answer them. You can use this space to write your own FAQ that customers can access before ever clicking into your site.
Answering questions that users and potential customers ask will help clarify information about your business, services, and/or products.
Set Up GMB on Your Phone to Access Customer Chat
Your GMB listing also allows you to setup direct chat with customers through the GMB App.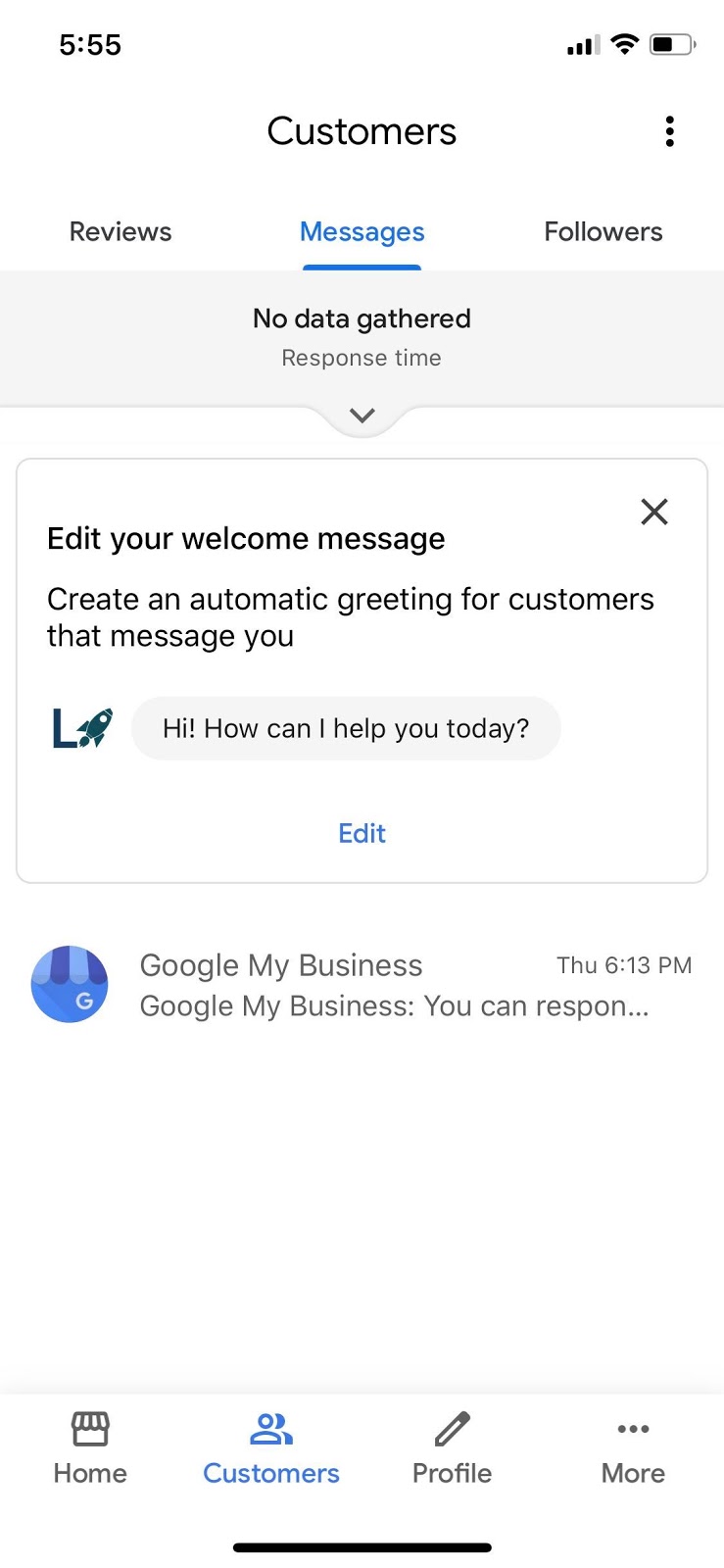 Collect Reviews!!!
Finally, use the link provided in your GMB console to collect reviews for your business. Reviews are one of the most significant ranking factors for local businesses. You can use your GMB link to invite people to leave you reviews.
Respond to Reviews
Once you have reviews coming in, you should review them regularly. Respond (kindly & helpfully) to any negative reviews. Responding well to customer complaints will help your SEO and help other customers take bad reviews less negatively.
Some pointers for responding to negative reviews:
Check the Review is Real
First, check that it's a legitimate review. Sometimes people can get confused about where they were, or other businesses may leave negative reviews for competitors. If this is the case, don't engage – simply flag the review to Google for removal.
Types of reviews you can flag for removal:
Spam and fake content
Off-topic
Restricted content
Illegal content
Terrorist content
Sexually explicit content
Offensive content
Dangerous & Derogatory Content
Impersonation
Conflict of Interest
How to flag a review for removal:
Go to the review
Tap or click "More"
Select either "Flag Review" (from your GMB account) or "Report Review" (from Google Maps).
Pro-tip: The more people who report a review for removal, the more likely that review will be removed.
Appologize
Apologize, even if the business did nothing wrong – if nothing else you can apologize that your business wasn't able to make their experience better or more positive.
Take It Offline
Take the conversation out of the reviews – invite them to reach out to you directly via phone and email.
Include Light Promotion
Insert a small marketing line. If they complained about service something like "We apologize that we didn't live up to our normally excellent standard of service…"
BE BRIEF!!
Keep it short! Three to four sentence responses to negative reviews are your best bet, in these situations less is more. Getting into details or blaming the customer can seem defensive and make other customers think less of the business, and being too long winded can come across as defensive. Be brief, courteous, and positive.
Offer to fix the situation (if possible).
Invite the person back with a discount, or for free to rectify the problem. Or find another way to make it right.
Step 14: Rank Higher
Now just engage users regularly through your GMB account, and see your rankings improve!